Wanna read a post I wrote late at night while I was feeling a bit snarky?
Check out the REALLY awesome blog party over at Funky Polkadot Giraffe this week.
There are multiple giveaways and tutorials going on everyday. A $25 gift certificate to Eli's Lids being one of them!!
I'm off to enter them all right now…REALLY!
OK, I entered. Now to finish this post.

 If you aren't signed up for Plum District (you need to be) then I have to let you know about their deal today – a Customizable Photo Book from SnapFish for only $15. Check it out here! The offer is only good till midnight tonight!
And I'll leave you with an awesome photo of Cy in his swing in honor of Wordless Wednesday. I was organizing pictures came across this one taken at 5 weeks old.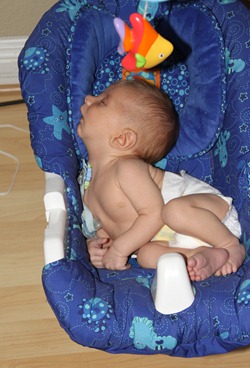 Comfy looking right?