We are coming out of Christmas and my head is spinning. Not because of big family meals, gifts galore or touching church services (though I did experience all of the above), but because the whole holiday feels insignificant. My mom fell, broke her femur, and I thought I would be planning her funeral through Christmas.
I'm not.
Because she is still alive and slowly coming out of her 10 day medically induced coma as I'm typing this post.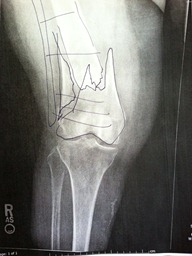 Late on the 19th she fell off a curb after her Bible Study Christmas Party (oh how us Bible Thumpers can get wild) and her femur snapped like a twig. She was rushed in an ambulance to the ER where one of my High School friends happened to be the doctor to admit her. That was cool. My mom was happy-loopy on pain meds in preparation for the next day's surgery. The surgeon attached a steel plate with 10 pins into her leg and ended up having to do a second surgery right after the first to to drain her leg of fluid with a vacuum. My sweet mom, who already has all sorts of health issues, now had three open 10" incisions on one leg. When I visited her the next day she was ventilated, restrained (because she wanted to pull out the terrible breathing machine from her throat) and terrified. We were surrounding her bed weeping and when she heard our voices her back would arch, her eyes would bulge and she radiated fear.
That's when I knew she would die.
She would be moved for 24 hour dialysis. She would be put farther under for sedation into a medically induced coma. She would end up going through 5 surgeries in the days to come. Her organs would shut down and technology would be keeping air in her lungs and poison from her blood.
We rearranged Christmas with extended family (which was met with very little compassion… which was totally lame), but we felt like we couldn't rearrange Christmas morning with the kids. No matter what happened. On the eve of Christmas Eve we had to go to the store for a gift for Eli. We had just left the hospital and I was stifling sobs. I was watching the other people in a daze. Shoppers were frantically looking for last minute gifts or coveting things on their wish lists or laughing at novelty items. It was surreal. And I wanted to get on the loud speaker and scream at anyone who would listen, "Don't you see how trivial this is? Can't you understand that this 'holiday' is a joke? Did you know that the most wonderful person ever is dying while you are shopping for that aunt you only see once a decade? A light is fading from this earth and it will be gone forever!!!! I would trade every Christmas if she could survive this. And you would too, if you met her. Because she's amazing. And she's mine. And she's dying. I want you to wail and shout 'UNFAIR' with me. And most of all I don't want you to be happy."
Dramatic. I wasn't in the best place and I didn't come out of that place till yesterday, when I was truly sure she would live.
She is happy-loopy on pain medication again. But she's alive!
She'll have to be in an extended care facility for about two months before she can put ANY weight on her leg. But she's alive.
She is alive.
And I'm going to go visit her right now.
I GIANT thank you to YOU! My friends, followers, pastors, prayers warriors. Without you she would be dead. And something precious would be gone. Of that I'm certain.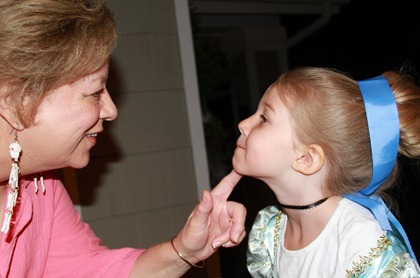 (Picture of my mom this Halloween with Cinderella.)