I turned 32 last week. I've never been one of those folks who gets hot and bothered with getting older. I've looked 30 since jr high so it's pretty satisfying for my looks to finally match my age. Unless I look 50 now – and if that's the case, please don't tell me. I had a bit of a reflection on my 29th birthday (and continued the story on my 30th) and I feel the same way. I'm happy and comfortable with the way my life has turned out. Maybe a little too comfortable.
My birthday was perfection. One of my favorite type of days – productive and playful. My hubby had to work, but got up while the house was sleeping, to make me chocolate chip waffles and left 10 love notes hidden around the house. I liked it. A lot. The children and I ate waffles in bed and chatted about my birthday. They were excited to help me find the notes and had no concept of my age. I asked them if they had unlimited resources, what would they would get me for my birthday. Eli said he would get me "an expensive LEGO set." Shocker. Cora Jane said she would get me 100 stars. One hundred stars?? "Oh yes, Mommy! I would fly into space and capture you 100 stars." That girl. She oozes awesome.
She thinks big.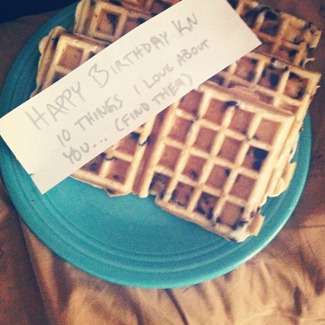 The kids and I did loads of errands and I was able to do all sorts of prep for an epic pinterest party I threw last weekend. (I can't wait to share about it!!! You will flip. Flip!) I treated myself to Golden Spoon for lunch and the kiddos to Jack in the Box mini pancakes. They love those mini circles of fluff and it's only a buck for 8… or is it 6? Doesn't matter. They're good. We ate in the backyard under the shade tree. Sigh. The good life.
With full bellies, we were enjoying our time together in the sunshine. I love to use these moments to talk with my kids. Really talk with them, not "at" them or "to" them, "with" them. This moment we talked about birthday presents. We talked about getting a gift the birthday person would like, not something you like (ahem "expensive LEGO set" above). We talked about gifts that you don't have to buy. Some people (like me) love the gift of a love note, a dinner out or something handmade from the heart, more than something that costs a lot of money. We talked about our favorite shows (I said Shaun the Sheep) and about the things the kids were learning in VBS (no matter what, you can trust God).
At some point Eli disappeared inside to play with LEGO bricks, while the rest of us were lounging. He came back outside a little later with a sheep he made from his imagination. A gift for me, for my birthday. He understood from our conversation that I probably didn't want a LEGO set for my birthday, so he had asked me my favorite show so he could make me something from the heart. I liked it. A lot.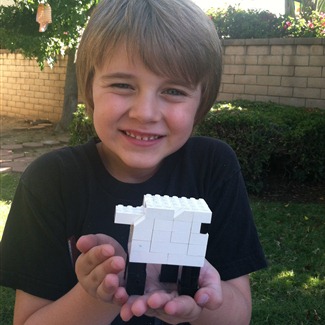 We took the big kids to VBS then my hubby took me to sushi dinner with the littlest littles. A perfect day. The kind of day that gives you some perspective.
I have a good life. Nope, a GREAT life. I'm comfortable. I could live like this forever. I could. But knowing what I know (what we all know) about the world out there, what should my life look like? We have full hearts, full bellies and a full home. But I want to think big. I'm trying to think big, like Cora Jane.
I'm switching things up at Eli's Lids. (I still can't tell you everything yet because I'm a jerk like that.)
This blog is a business blog but I've always been pretty personal. Now, I'm officially turning it into a personal blog.
So what's going to change?
Nothing really. I'll probably be more opinioned.
I'll be launching an exclusively business blog soon. But since Eli's Lids is such a huge part of our life, you'll get all that here as well.
Happy Monday!