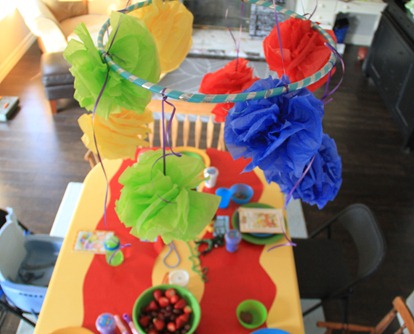 This year's Back to School Feast theme was Psalm 25:5 (see last years here)
"Guide me in your truth and teach me, for you are God my Savior and my hope is in you all day long."
During dinner, Brad talked about growing in faith and wisdom. He talked about how we are set apart and that if we are sad we have true hope in Jesus. We can depend on God ALL DAY LONG. No matter what. All the time. Then we gave Eli a special blessing for the school year.
The décor was all circles, color and silly.
Table settings:
~Red wrapping paper cut in a wavy line as table runners
~Bright beaded necklaces down the middle of the table
~Colored 3×5 cards as name plates
~Mismatched colorful dinnerware
~Molding foam and a back to school book for each guest for dinner play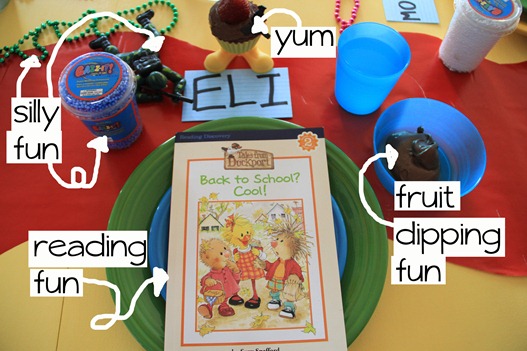 I made this poof chandelier with a small hula hoop, curly ribbon and tissue paper. (Thanks Amanda!) 1) Stack 6 pieces of tissue paper. 2) Cut piles into 4 squares. 3) Stack into two piles, 12 pieces in each pile. Set one pile aside and fold the other one like a fan. 4) Tie a length of ribbon to the center of the fan (you'll have a bow shape). 5) Separate tissue pieces and fluff into a poof shape. 6) use the extra length of ribbon to hang around the hula hoop.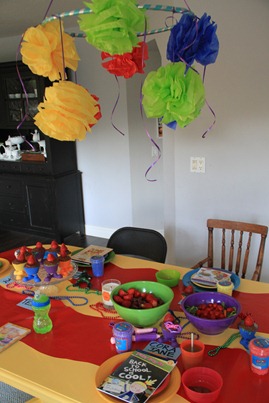 Menu:
~Ravioli with meat sauce
~Spinach salad with carrots and cherry tomatoes
~Strawberries, blueberries, grapes
~A dollop of nutella for fruit dipping
We wore the necklaces from the table, read the books during dinner and let the kiddos play with the toys (a treat around here).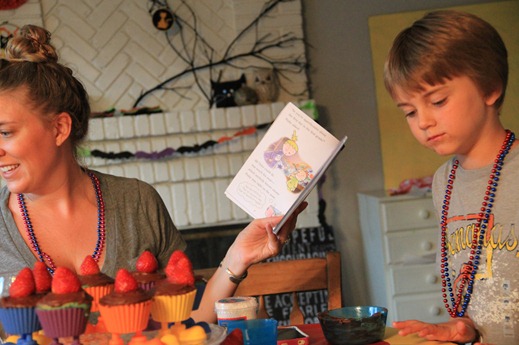 Dessert:
~White cake (dyed blue with food coloring) with chocolate frosting and a strawberry on top. I baked them in these neat silicone cupcake thangs I got years ago. They have feet and they are adorable.
We had so much fun! I feel like this celebration sets the stage for a great school year. We have our feast the night before school starts, but I think it would be fun to close out the first week too! (I spent less than $20 on the supplies at the Dollar Tree!)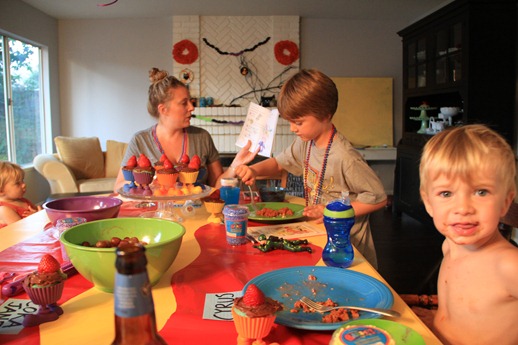 The next morning we took pix, walked to school and said goodbye.
I missed that lil' fella!
While Eli was at school we baked cookies, then ate them later while he told us all about his day. That was special too. I think I'm gonna like this new phase of life. I think I don't have a choice. My time stopping remote control is broken. I keep trying to hit pause, but it's stuck on fast forward. I can grasp on to what's already gone or look ahead. I'll choose to look ahead. I choose joy. And eating cookie dough. Yep, eating lots of cookie dough sure does help.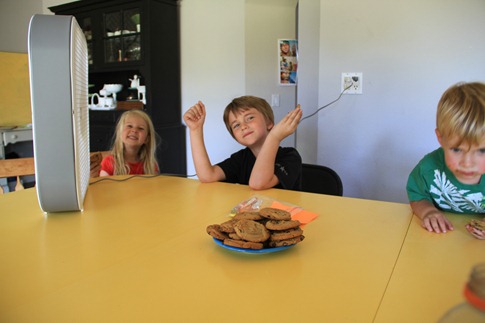 Happy 1st week of school!