This was the first 4th of July in our new house. It was alright. Usually it's "my" hosting holiday in the family but everyone was out of town and my hubby had to work. We stayed in our jammies all day and I worked a bit (on something really cool that could be happening THIS weekend – details if it goes through). We ate dinner but the only cute thing I did was raspberries and black berries in those little white bowls I used for the back to school feast. And I didn't even take a picture. My holiday loving self was feeling like a failure.
I did make brownies.
As I was getting the brownies out of the oven it dawned on me that while my kiddos love when I do cute-sie things for them, the cute-sie things aren't what makes whatever we are doing fun. I reminded myself that being 'fun' doesn't always mean decorations and a fancy meal. It means something… anything… different that's F-U-N. Make sense? So we ate our brownies.
Outside on a picnic blanket.
Out of the baking dish.
As much as anyone wanted to eat.
And it was FUN!
Just a reminder that making the everyday magical is as simples as making brownies from a mix.
As in very simple.
Maybe a reminder for you too?
I'll tell you what's not simple. Taking a family picture after the fireworks.
Here's the best one… of me…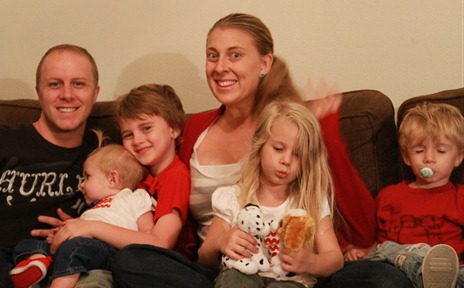 And the kid picture. Oh my…
Lets try them on the couch…
Geesh. All I wanted to do was show off the tees my mom made for the girls.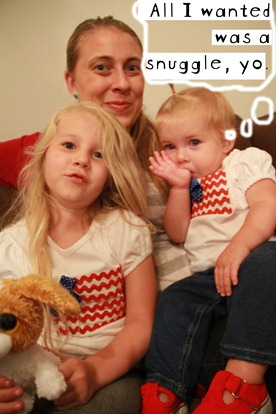 You'll need: a tee, ric rac, blue polkadot ribbon and fabric glue.
Decide how wide you want the flag to be on the tee and cut 3 pieces of ric rac to that length. Cut 2 more pieces (or 3 for the bigger tee) a bit smaller. Tie a bow with the blue ribbon. Place on the tee and glue everything on. Done. I'm not sure if my mom or my Aunt Patti made up this craft or if they found it on Pinterest. I searched and couldn't find it. I do know that it's adorable…
If you are looking for other fun 4th of July crafts to pin, how about a few I did last year?
Mini flag canvas, American flag out of ribbon, 4th of July wreath.