Have you heard of Inside the Outdoors??
I hadn't! (though my friend Michele from Fun OC Parks has!!)
Till we were invited on this awesome 'Feathers and Fur Sunset Hike' in Silverado Canyon…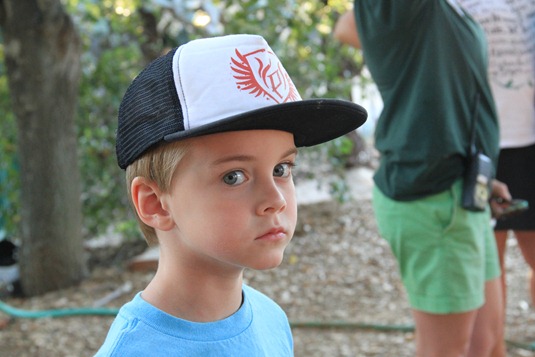 I may or may not have told Eli a mountain lion would eat him if he wandered off the trail. Whatever works! (pictured in the Trucker Lid and Tall Ships tee)
First you get to pet and see all sorts of animals in a casual classroom type setting…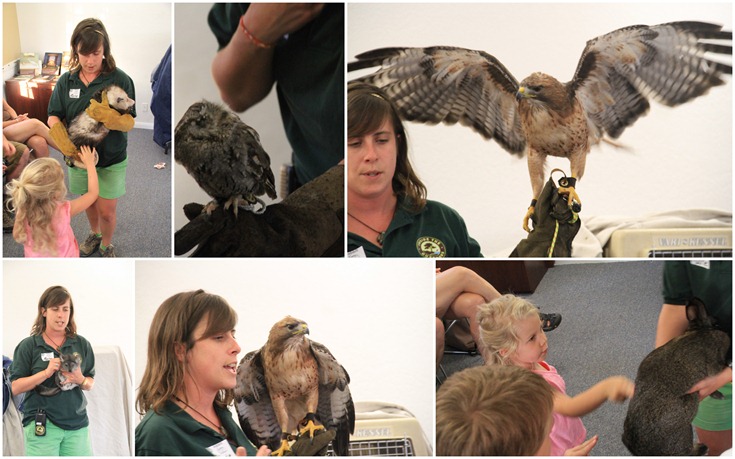 As you can see the Naturalist, Marie brought out non-lame animals. I think there was a chinchilla, bunny, red tailed hawk and owl (all pictured above). I wouldn't really know though because Cy was suffering from his first case of diaper rash. I took him outside to air out because he was screaming while sitting down. Poor guy. I do know the kiddos LOVED it because they chatted about petting the animals all evening.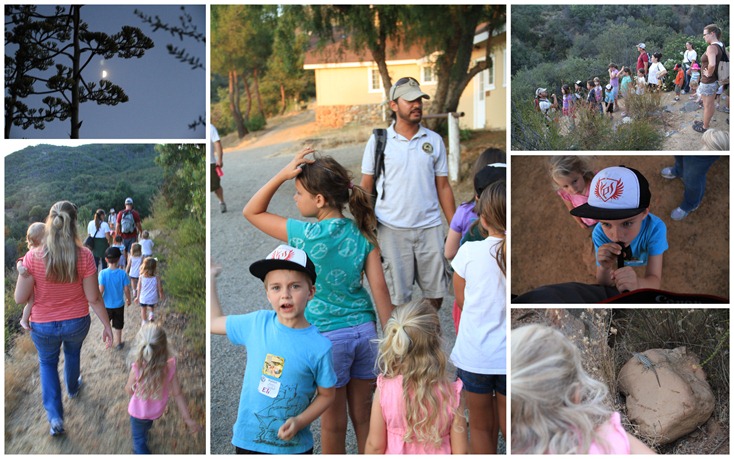 Our hike leader, (is that what they're called?) Yarib, was AWESOME. He was very knowledgeable about the natural-y things along the trail and kept the kiddos captivated the whole time. No easy feat, in the hot weather with ump-teen city kiddos in tow! Our favorite thing was making our ears into Coyote Ears to hear better along the trail…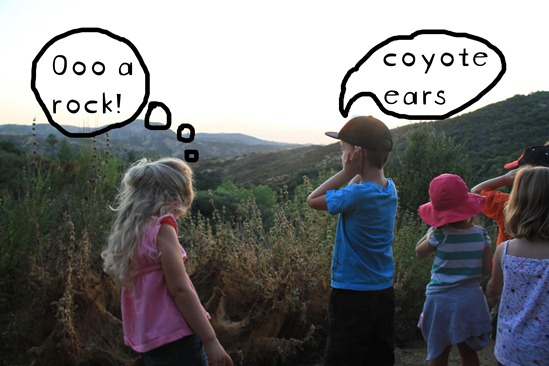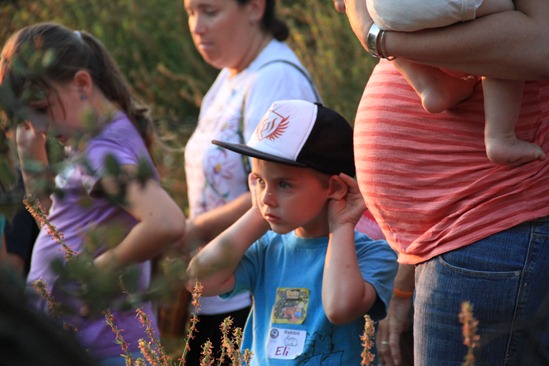 The lighting at sunset was a-mazing for photography! And the canyon itself is just beautiful. It's hard to believe you are in the middle of Orange County.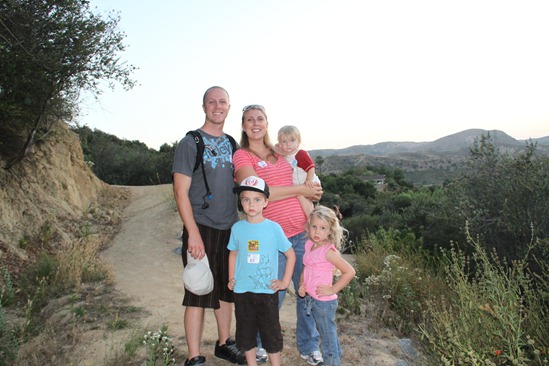 We did quite a bit of hiking but don't be discouraged because it is SUPER family friendly. The kiddos didn't tire out and my giant preggo self did just fine. There are a few slippery slopes so I would recommend hiking/tennis shoes (no flip flops) to be safe. And water. We brought ours in Hot Hubby's camel backpack and it was perfect.
The hike ended at the top of a hill in a lookout type area and the kind folks at Inside the Outdoors had the cutest activity set out. Lil' kiddos got to reach inside the bags and guess if it was Feathers or Fur (the theme of the hike), Big kiddos got to guess the animal the feathers/fur were from. The large card under the bag had a picture of the animal. Too cute!
Then we all gathered for a story about the canyon (camp memories anyone???). Marie told the story of Juan Flores, a bandit who hung out in Silverado Canyon AND happened to leave treasure hidden somewhere. Needless to say the story was a huge hit for Eli. A metal detector may be in this child's future! Cora Jane was playing with rocks.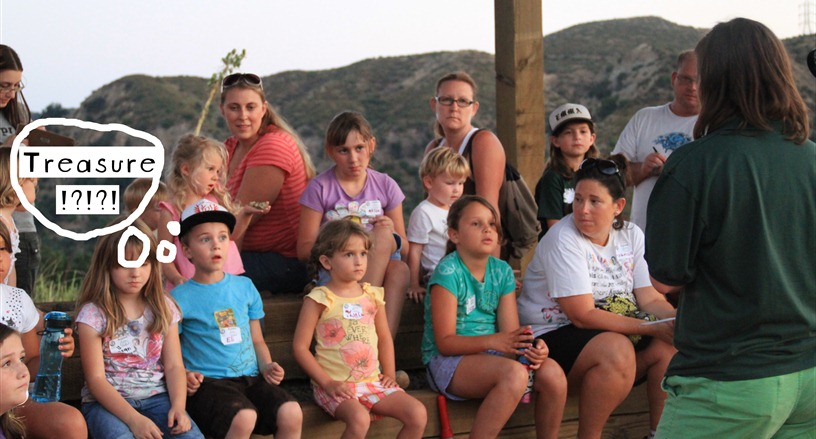 The Inside the Outdoors staff was super friendly and you can tell they actually like what they're doing. A big thank you to Stephanie, Marie and Yarib for showing our family such a good time!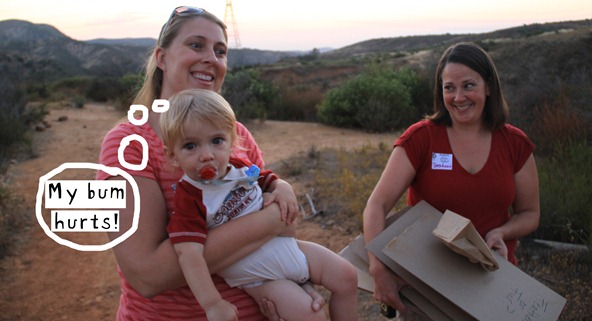 Dear Fellow Wives/Moms,
You should really make your family do this!! Some hubbys (ahem) might hem and haw a bit about heading out to trek around the canyon with small kiddos. And I will admit it is sometimes a pain to get all the wee ones ready. BUT I promise everyone will have a good time and your hubby will even tell you how awesome it was on the ride home (ahem).
Smooches,
KN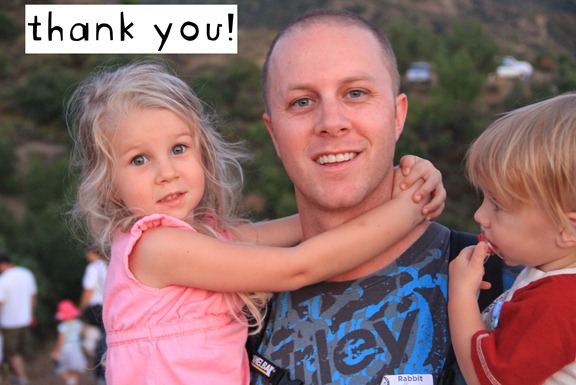 Details:
The Sunset Hikes cost $5 per person (or $25 per family) 7-8:30pm. The next one is 'Trails and Tails' on Saturday, July 23rd. (I'm hosting a bridal shower that morning but we hope to go in the evening!!)
For a Summer calendar of events go to their site (you have to actually click on the words 'calendar of events'. And bookmark the Inside the Outdoors' main site for loads of other programs… like their Summer Day Camps!! (5 day week, for ages 6-11, 9-2pm ONLY $195!!)
P.S.
If you go to the Rancho Sonado location, it's kinda easy to miss off the main road. The Inside the Outdoors folks will send you a map but you have to keep an eye out for the small white mailbox with 'Rancho Sonado' on it. It's pictured at the top of this post!
###
Follow Inside the Outdoors on Facebook here.
Follow Inside the Outdoors on Twitter here.
They have a You Tube Channel too.