I haven't linked up to Life Rearranged's InstaFriday in 3 weeks! So I am today with all my faves from the weeks… (it's my blog, I'll do what I want to)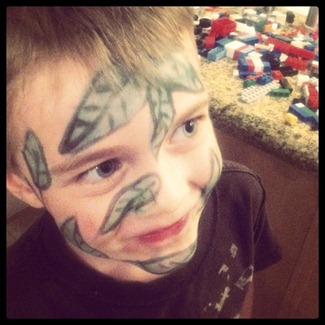 A little camo makes an awesome family night/4th of July activity! Isn't being a mom RAD!! (See the full story here!) 
We went to see one of our favorite bands, OC Supertones at FishFest. They are Eli's favorite band. Isn't is so much fun when your kiddos like the same kind of music you do?? While we were waiting for the OC Supertones to start we discovered another great singer, John Mark McMillan. He has a song called Skeleton Bones which was a HUGE hit with Eli! (we love pirates!) I can't get enough of his sound either. The kiddos ask to hear the song everyday and it's just precious to hear them singing the lyrics! AND it's long – just the right length for picking up toys. aka – "How many toys can you pick up before this song is over?" Don't you love it too…??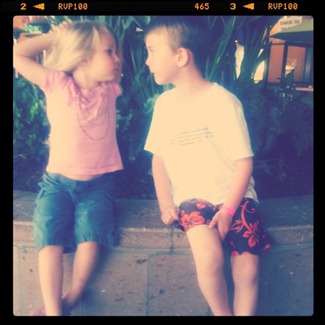 Siblings pushing each others' buttons.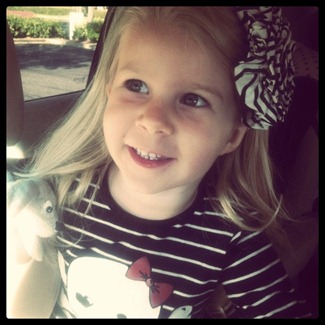 We went to Pirate Dinner Adventure. The Christmas Eve headband  I made for Cora Jane went great with our pirate ensembles. (see how to make them on this OC Family TV) Which she promptly broke on the way home. Totally recommend the dinner if you have a pirate obsessed child. (They have a deal for my readers – $20 for the matinee on the 21st… that's over half off!! See details on the Eli's Lids Facebook wall.)
We so the beach every Sunday after church. Cora Jane fell asleep in the midst of playing in the sand and Cy couldn't stop eating sand.
Join us!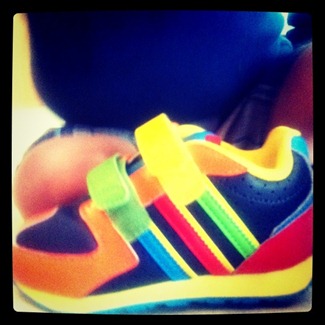 Cy got these awesome shoes in the mail from some of our closest friends for his birthday. I can't wait till he can rock them!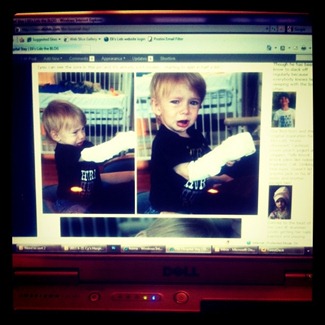 A full update on Cy here. A few people have asked what the final diagnosis was, and the answer is – nothing!
YAY!!
We still have an appointment with the infectious disease doctor but I think it will be a-OK!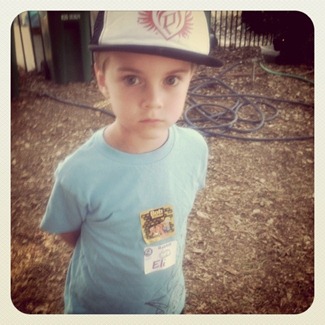 We went on a super fun Sunset Hike with Inside the Outdoors. If you are in the OC join us for the next one!!
We had a Breakfast Beach Birthday for Cy and it went off without a hitch.  I can't wait to share all the details with you!
Weekday evenings have been filled with twilight rides.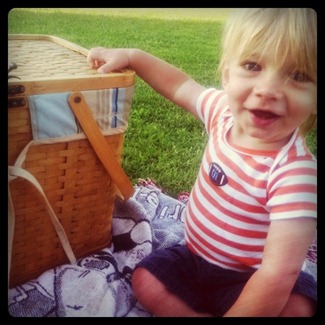 One of our first Easters I got Hot Hubby a big picnic basket as his Easter basket. He said we would never use it. So I promptly scheduled a couple of picnics a week. REALLY! If you have a rad picnic basket you'll use it! (Dinner doesn't have to be fancy… we had left over pizza, salad, veggies and a sleeve of Oreos!)
###
Follow me on Instagram so I can follow you!! @elislids
Have a great weekend!!