Living in Orange County means we have national tourist spots in our backyard. One of our flavor-favorite spots is Pretend City! (I've posted about Pretend City before.) So so so fun for little ones. And they were nice enough to donate favors to my pinterest party. THANK YOU thank you THANK YOU!!
Eli got to go on a field trip to Pretend City in June. He hated it:
Pretend City was created for kids like Eli. Imagination at it's funnest! (Hey, that would be a great tag line. You have my permission to copy me Pretend City.)
If you are looking for something to do this Friday check out "When I grow up" day. Your kiddos will get to meet: Angels Baseball Player (he's now retired), Doctor, Personal Trainer, Shoe Designer, Dentist, Firefighter, Policeman, Lifeguard, Chef, Hairdresser and more!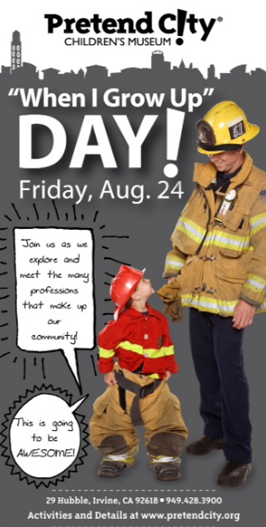 Or Parent's Night Out, Children's Night In – Treasure Hunt! on Friday, August 31 from 6:00pm – 9:00pm. For all kiddos 4-8 years old. It's $35 per child, $30 per child for two or more children from the same family, $25 per child for members. And the kids will learn how to make maps of Pretend City and watch Muppet's Treasure Island. You have to register for the Parent's Night Out by 8/29/12 so check out this link for details.