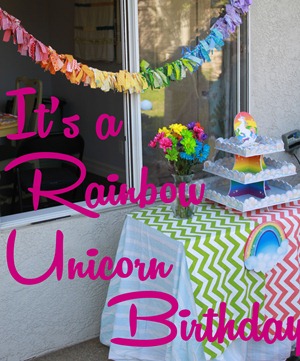 Cora Jane picked a Rainbow Unicorn themed party.
Because of course she did.
(see last year's Rainbow Puppy party here)
This theme was a lot of fun, and lo and behold, they actually make rainbow unicorn stuff!
The Birthday Outfit: Cora Jane's outfit was completely handmade with a lot of love by our good friend Patti. Wow, are we blessed! Floor length rainbow tutu, beaded rainbow heart tee, rainbow headband, rainbow bracelets, AND cloud/rainbow wand.
Décor: Rainbow flowers from Sam's Club, rainbow lanterns and poofs from Party City to hang in the trees, rainbow chevron fabric with colored glass lanterns for each table. I have no pix of the tables. They were adorable!!! I used a rainbow fabric strip bunting (my friend Kyla and I made together) behind the cake table and other random stuff from Cora Jane's Rainbow Room too.
Menu: The boyz barbecued chicken and we had loads of fruit, chips, salsa, rainbow gold fish (Eli's idea) and macaroni salad. Water and pink lemonade in rainbow unicorn cups with rainbow curly straws. (Easy and CHEAP… I used to do pizza or Subway with juice boxes, but doing chicken and having a drink dispenser really really cuts the cost… a lot!)
Cake: I got the cake and cupcakes at Sam's Club then added the sparkle candles, rainbow unicorn toppers. and put them on the rainbow unicorn cake stand.
She loved them!
Entertainment: Unicorn stickers on a table with paper and crayons, bubbles, chalk, a mini bounce house my in-laws brought, and a piñata!
The piñata was decapitated after the 5ish kid. It looked pretty darn morbid hanging there while children picked up the candy that had poured out of his flying carcass.
Why do I love piñatas so much? I have no idea.
But I do.
The rainbow birthday hat was made by my friend Cheri at Sweet Lily Tutus!. Cora Jane LOVES it and it's now a decoration in her rainbow room
Favors: The favors were adorable! But would you believe I don't have any pictures!?!? Otter pops with a unicorn horn lollipop tied with curly ribbon. It was super super super cute (and inexpensive and fun).
Cora's expression here kills me…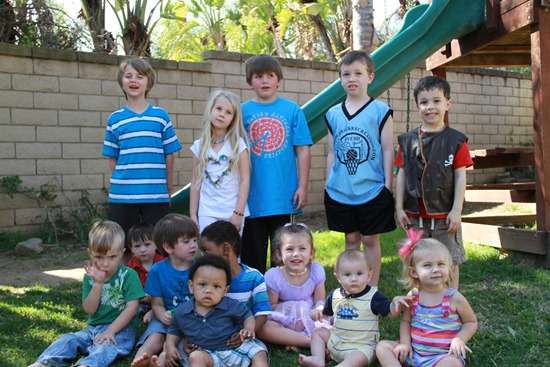 Reason #346 Aunties are better than mommies…
It was a good day.
And a sad day.
The first birthday party without my mom. The first birthday party Cora Jane didn't get a custom Nannie-made-pillowcase. But we are blessed. We were surrounded by people who love us and who we love. My grandmom made Cora Jane a special rainbow pillowcase. She was overjoyed!
It was a good day.