While most of the country has been under (at least) a foot of snow, Southern California has been enjoying fantastic weather. The kind of weather that makes you want to sit on the roof and enjoy the sunset.
True Story.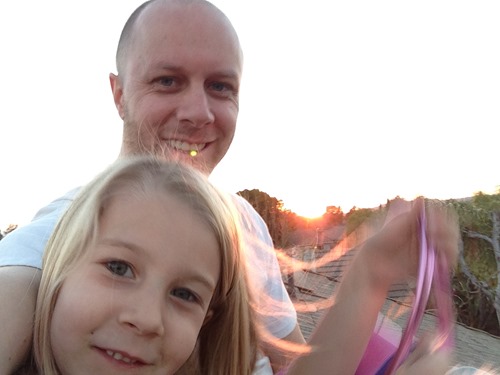 But sometimes some "big" weather happens around here. The temperature falls below 70 degrees and this crazy wet stuff falls from the sky. Eeeek!
What some people are calling #Rainpocalypse came today. And we should get A LOT of rain this weekend… like a whole… (wait for it… pause for emphasis)… FOUR INCHES!
Eeeeep.
Southern California only gets about 10-15" of rain in a good year. And because of a dry few years, we are in a drought. With rain being scarce, I want to save every drop! And that's why I bought a rain barrel. According to the rain barrel folks an 1,000 square foot roof can catch 600+ gallons of water with only 1"of rain. That's pretty substantial for a dry area like ours.
And I'm pretty smitten with the whole idea!
Using my $25 rain barrel I can catch rain from my roof and use it to water my garden.
It's pretty amazing!
I got my 55 gallon barrel at The Ecology Center. It attaches to the rain gutter on our house and within a few hours of light rain the bucket was FULL!
55 gallons of fresh rainwater.
Instead of becoming run-off on our oily streets and contaminating the ocean, it becomes free fresh irrigation for my garden.
Like a watering can from God. (Yes, I'm that cheesy.)
Let's not dwell on the fact that I haven't planted my garden yet… m'kay?
I cannot lie, as I told people about my rain barrel aspirations, I was met with mixed views.
No one was mean or negative, but laughter was involved.
And by laughter, I mean my husband almost falling of his chair with belly laughs and disbelief. "You want me to install a 55 gallon rain bucket… right before a hot summer… in a drought??? Hahahahaha…"
"No my Love, I want you to install 4."
Shouldn't he know by know, his wife is insane, and his life would be so boring without her?
And by 'her', I mean ME.
And he does.
So he installed my barrel. (Does that line sound dirty to anyone else?) And we waited 3 days for #Rainpocalypse.
And in case you were wondering, #Rainpocalypse looks like this…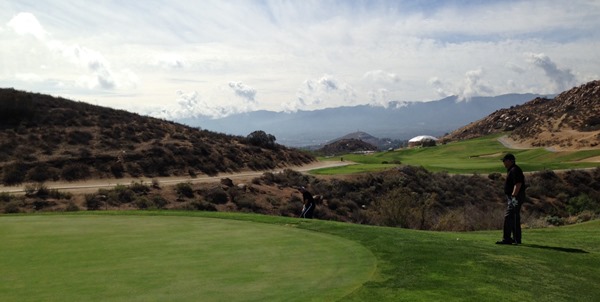 (My husband went golfing with his work's golf club. Because he works for the best company ever. They actually care about people being happy. Best.)
But even with just a few hours of rain (ok…misting) my barrel is now filled. Below is a video I shot right when I woke up this morning to let out the chickens.
Now you might be wondering why you should install a rain barrel. For me the answer is simple – it's a Small Thing that can make a big difference.
Water from rain barrels can be used for plants during a drought. They can also be set up to slowly release collected rain fall in areas to soak up water, reducing storm runoff and increasing groundwater recharge.
If every third person in my county had only one rain barrel. And they used just that one barrel of reclaimed rain instead of city water during the year, our county would save 55 million gallons of water per year.
We would prevent runoff and keep the water on our land.
Small things. Big impact.
Unicorns and rainbows.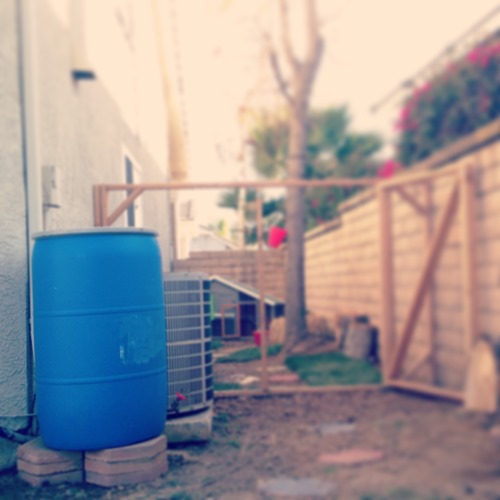 Just the (Rain Barrel) Facts:
1" of rain yields about 600 gallons of water from a 1,000 square foot roof. Seeing the full barrel this morning after maybe 3 hours of light rain, I'm thinking our barrel will be filled up multiple times per year for use.
My rain barrel cost $25 after rebate! I paid $100, for the whole kit including gutter attachments, spigot and tools to install from The Ecology Center. (Try to buy local.) Right now CA is offering a $75 rebate for each rain barrel you get (up to 4 per household). Go to http://www.socalwatersmart.com – click "for residential customers" – on the right click on "get your rebate here" – fill out the form, then you'll get a confirmation email and a check in the mail. You tree hugger, you!
DIY: You can make a rain barrel for about $45, depending on the cost of the barrel. The cheapest food grade barrels I found on Craig's List are $35 (NOT including spigot and attachments). I'm not sure if you'll get the rebate.
The system attaches to your preexisting rain gutter and took Brad just 10 minutes to install.
You'll want to put your rain barrel up high enough to fit a watering can under the spigot. We used stepping stones we already had. Cinder blocks or a wooden stand would work well too.
You won't be saving tons of money with a rain barrel. City water only costs about seven cents a gallon. But can you put a price on saving the earth? Answer: No.
The water isn't drinkable, and is best for watering a vegetable garden using a drip system or for watering non editable plants.
When the zombie apocalypse goes down, rainwater is better than no water.