We are just days away from the one year anniversary of my mom falling and breaking her femur.
I can't help but reminisce about what was going on this time last year – I was preparing for my friend's annual cookie exchange and making gifts for all our neighbors. I was feeling excited for the first Christmas in our first home. I had just received our new Bohemian Lids and was planning how to launch them in the new year. Eli was in his first year of kindergarten and the kids were giddy with all the holiday stuff we were doing.
It was wonderful.
We were blissfully ignorant to what would come.
Then my world was jolted, we had two emotional months and then my mom was gone.
My mom would always write special quotes or bible passages on a chalkboard in her kitchen. Simple things that were speaking to her heart for that moment. My mom's neighbor (and one of her dearest friends) snapped this picture of the last thing my mom wrote on her kitchen chalkboard.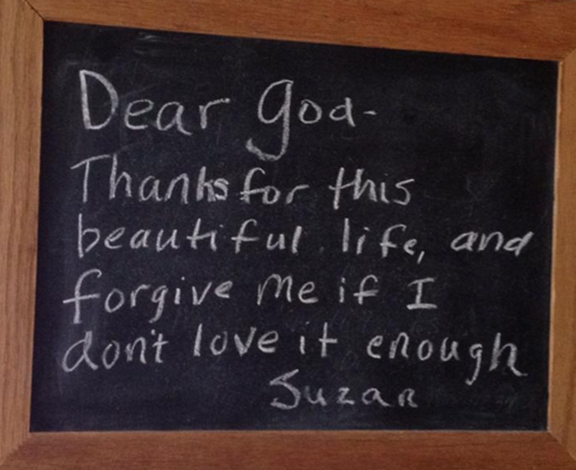 Being thankful isn't easy.
For me it's a posture I have to breathe in daily hourly.
Intentionally.
My friend made this Thankful banner pattern. I made one for Thanksgiving, but I feel like I need a constant reminder, so I'm keeping it up year round. I want to always be thankful for this beautiful life that I love.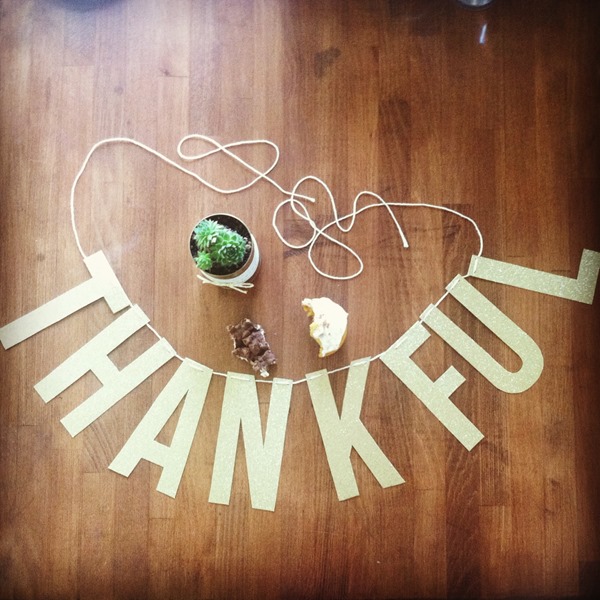 I want to share this Thankful Banner Tutorial with you! (With permission from the amazing Julie, we also made this banner as a part of my Anti Social Experiment.) This would make a great (inexpensive) gift for your girlfriends, neighbors, or as stocking stuffer!
You'll need:
Thankful banner template
12×12 glitter paper
Pen
Scissors
Hole punch
String
To make the Thankful banner template you'll need to download the Bebas Neue font. Print out the needed letters (THANKFUL) in 500 pt size.
1. Print out the template.
2. Cut out the template. (and save it so you don't have to do it ever again!)
3. Trace the letters to the back of the 12×12 glitter paper. Be sure to do the mirror image of the letters so the letters aren't backwards! (Tip: to fit all the letters on one paper you'll have to do them out of order or upside-down.)
4. Cut out the letters. (duh)
5. Use the hole punch at the top of each letter so you can hang your banner. (Tip: See the picture above as a guide for the holes.)
6. String your Thankful Banner and hang.