This Easter was a first for me.
The first Easter without my mom.
My mom always hosted Easter in a big way (see 2012, 2010 & part 2, 2009). She had a way of bringing all sorts of people together. It was pretty amazing actually. (My mom and I below, Easter 2009)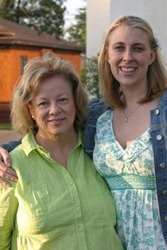 Our Easter day ended up being quite lovely and I think a lot of it had to do with the way my church prepares for Easter – we take a weeklong "journey" together with a corporate fast and daily devotions. Below are the cliff's notes version of what we gave up for the progressive fast everyday. So each day you are adding to what you have already given up the days before. We started the Sunday before Easter. (click here for the complete details, it's worth a click)
Sunday: All media… TV, movies, video games, phone apps… (oh how I missed Instagram!!)
Monday: Caffeine. (Don't you agree that it was pretty cruel to make people cut caffeine so early in the fast!?!?!)
Tuesday: Snacks and desserts.
Wednesday: Remove one meal.
Thursday: Remove two meals.
Friday: Everything but bread.
Saturday: Everything but water.
Sunday: Prayer walk at 6am and breaking fast together with yummy breakfast burritos after the prayer walk.
Although Easter without my mom was tough on my soul, I feel like my heart was prepared.
Prepared to mourn.
Prepared to celebrate the resurrection.
Prepared to bask in the truth that I will be in heaven with my mom someday.
Prepared to offer that opportunity to my children. (Because God doesn't have grandchildren.)
Because if Christ didn't rise from the dead what is there?
Really.
What's the point?
We woke up at 4:30 to be at the prayer walk by 6am. We were in full Easter garb. (Oh you know how I LOVE to match!!) It was hard but we wanted to go big. We wanted our children to understand the gravity of this day. Christ's resurrection is everything.
Everything.
I had the kids sleep in their clothes. YEP. Whenever we have to go somewhere early, my kiddos have slept in their clothes. And on bath nights I have them put on their shirts for the next day. (Free Big Family tip for ya!)
Here we are walking and praying…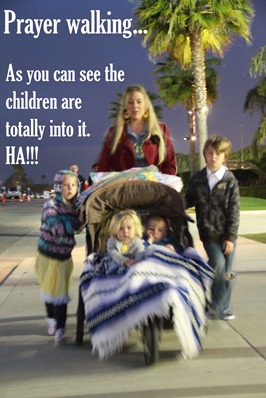 We watched the sunrise and prayed with our friends for every aspect of the day and service.
It was powerful.
Then our pastor shared a few words.
I have no idea what, because I could smell the homemade breakfast burritos and was starving from the fast.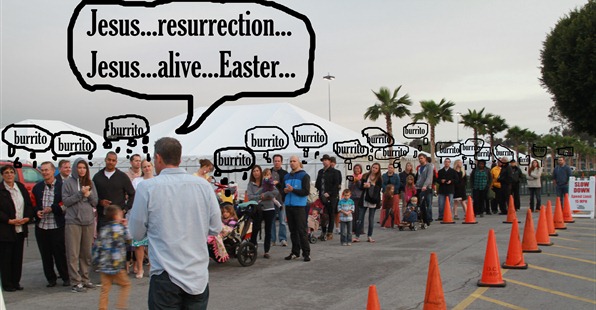 Then we had our service…
Then home for Easter baskets…
Each kiddo got a book, a toy (except Tess got shoes because she LOVES shoes) a chocolate bunny, peeps and a bathing suit (all hand-me-down suits this year. Yay for saving $$$).
My mom's best friend hosted us for lunch and an Easter Egg hunt and one of my mom's other friends made the girls' dresses and the boys' bow ties (the same one who made their St. Patty's Day dresses and watched my kiddos while my mom was in the hospital). I can't even begin to tell you how much it means to me that so many people have stepped into my life. Doing the little things my mom would have done for me. Little things are big, because they matter.
Not one decent pic of the kids together this year. I may stage something this week. For posterity's sake.
Here is last year's Easter service (video from the audience) I love this one!!!
Think Dr Seuss meets urban poetry meets interpretive dance meets inspirational preacher.
I'll be honest though, I'm not usually a fan of modern dance at church, but the words in this piece give me the chills every time.