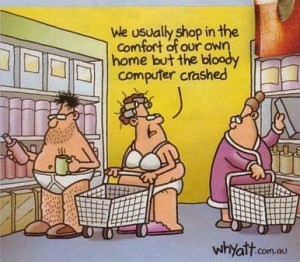 UPDATE 9/27/10: Instead of a linky carnival please include your link in the comment section!! 
I'm starting a weekly linky carnival.
Because I'm unpredictable like that!!
I've wanted to do it for over a year but getting pregnant seems to really get in the way of my blogging aspirations.
So what's the carnival about?
You know how you get something new and you want to tell everybody about it? Maybe you are a coupon maven and spent $23 on $233 worth of groceries, or you splurged at anthropologie (sigh), or won an awesome giveaway, or you got an awesome gift and want to honor that gifter… the list goes on!
Introducing the "I got it at…" Carnival
Guidelines:
• If you got something (yourself or from someone) or won something or made an awesome craft or want to promote a giveaway or product this weekly carnival is for you! (Even if you casually mention something you got in a post that is primarily about something else… please feel free to link up.)
• Put your name (or your blog name) in the linky along with a description of the post you are linking. Examples: Eli's Lids – Stainless steel pans from Sam's; Kara-Noel – Won this necklace from Kristen's Custom Creations; Eli's Lids – Giveaway for baby hats; Kara-Noel – Love this new teether for newborns!; Eli's Lids – Free shipping coupon for Sweet Lily Tutus
• The carnival will go up on Monday (12am) and stay open a week.
• Use any post you have written within the last week.
• Be sure to put a link in the post to the product or company (if you bought it) so we can pick one up too if we are so inclined!
• Link back to the "I got it at…" Carnival. (Not required, but I would love to spread the word to get to know more of my blogging buddies!)
To launch for Sunday, I'm going to do an "I got it at…" post everyday. Enjoy the things I have gotten (that doesn't sound right… grammar girls, fix it!), then link up on Sunday!