I thought I would share my Top 10 Tips for those of you going to the OC Fair (or any local fair) because I'm super mom.
Now presenting…
Top 10 Tips for the OC Fair from a Super Mom… (me)
OC Fair Tip #1: Forget your sunglasses.
There is nothing better than squinting your way through the crowds while your two-year-old bolts to the nearest shiny attraction.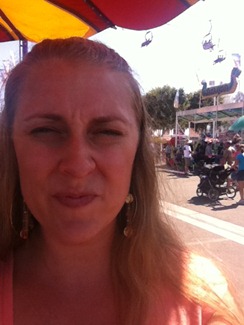 OC Fair Tip #2: Don't bring sunscreen.
You'll thank me later when your husband's head looks like a tomato and you have a kick a&$ farmer's tan. All that skin "cancer is caused by sunburn" research is bogus anyway.
OC Fair Tip #3: Be sure to go to the OC Fair at the hottest part of the day. 
When your knees are sweating, you know you got it right. (This will really heighten the impact of tips #1 & #2)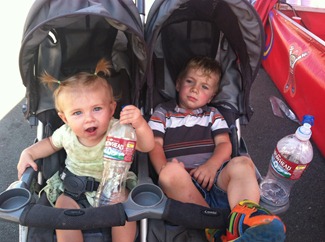 OC Fair Tip #4: The OC Fair is great for little kids.
Especially if they are under 36". They won't mind at all if they can't go on any rides. NOT ONE RIDE!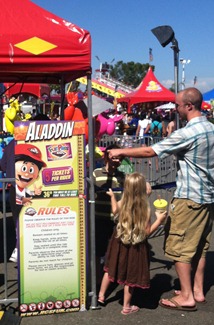 OC Fair Tip #5: Play the fishing game in Kid Land. 
Even if you lose, your kiddo will get a light saber. And we all know a three foot light saber is the perfect toy for a crowded place, especially in the hands of a two year old. And it's only 10 freakin' tickets. (He has mad skillz, right?)
OC Fair Tip #6: Bring water and snacks.
Unless spending $50 on water and animal legs is your thang.
OC Fair Tip #7: Try to have a minimum of two bathroom trips per child.
The first trip is just a teaser for the second trip, which includes #2 (if ya know what I mean), a potty that doesn't flush and roughly 4 squares of toilet paper.
OC Fair Tip #8: Stand next to the balloon pop game.
The balloons popping pierce your ears like a gun shot and your 4-year-old might even find a chew toy… from the ground.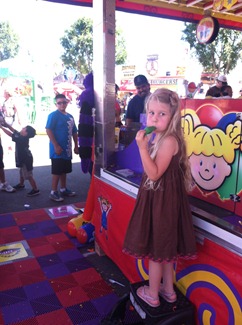 OC Fair Tip #9: Do the petting zoo near the green gate.
Seriously. It's free. They have refreshing water misters to keep the animals cool and your lil' animals will get to learn first hand how goats poop. (This really is fun and is always a huge highlight for us and they have the cutest baby pigs right now)
OC Fair Tip #10: You can't take tickets home, so give them away.
No matter how you plan it, you will always have a few tickets left on your card. Not quite enough for a ride or a game. Head on over to a ticket line and let your kids pick another kid to bless. We had a great conversation with our kiddos about giving and prayed for the kiddo who would receive our tickets. They picked a kid wearing a giant cowboy hat and it was SO MUCH fun to watch the excitement Eli and Cora Jane had about blessing another friend.
###
This post is a bit silly, but we actually had an awesome time. REALLY! We love love love the OC Fair. Check out this OC Fair post from 2009 about the awesomeness. (I'm going to try to post some pix from last year soon!)
AND…
I got an email today about a FREE movie at the OC Zoo. We already have plans that night, but I wish we were going! Here are the details…
Event: Zookeeper at the OC Zoo
Location: OC Zoo, 1 Irvine Park Road, Orange, CA 92869
Date Friday, August 10
Time: 5 to 10 p.m. (movie starts at dusk, 7:45ish)
Cost: Free
Parking: $3
Clip from the movie…