I'm a huge fan of Anthropologie.
I'm not a huge fan of their prices.
I have a few tricks I'll share about that… but not today

They just had a huge sale and I got these salt and pepper shakers for $14.95…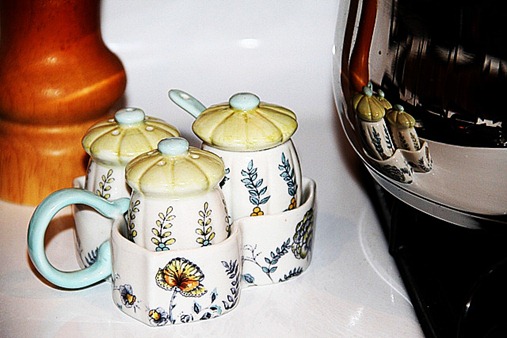 Aren't they just divine?? (especially reflected in my new pot on the right!) I can't quite figure out what the 3rd croc is for… but it has a little spoon and it's that little spoon that sold me!! I put sugar in it? Thoughts??
I also picked up these little spice containers for $1.95 each…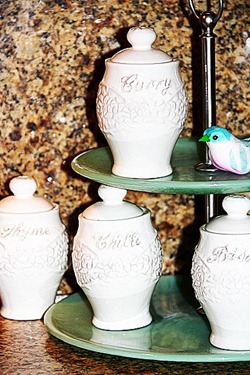 They say Thyme, Curry, Chile and Basil. Will I use them for spices?
Ummm… no.
I'm thinking my secret candy stash.
Chile = Hot Tamales (because they are spicy)
Thyme = Skittles (because there is always time for a Skittle)
Curry = M&M's (To curry favor with the children I give them M&M's)
Basil = DOVE chocolates (something creative with Dove & the word basil)
There may still be some awesome sales going on in the store and of course there are always new things on their website sale page!
Keep thinking of things you want to show off or deals you want to share and come back here to link up on Sunday for the "I got it at…" Carnival!